Transform Magazine
Sometimes you need to challenge your assumptions. That was exactly what UN Women was looking to do when they asked us to create Transform magazine. The Evaluation Office routinely audits UN Women activities, generating lengthy reports with analysis, insights and recommendations... that few people actually read. Looking to make the insightful, but dry, content more appealing to a broader audience, we created a newsstand-quality magazine, with a journalistic design.
We created the entire publication from scratch, from the new identity and flexible grid and template system to handle various types of stories to producing individual issues.
Issue 1
&
Issue 2
are out now, with 3, 4, and 5 already in development.
Click any image for a large view
The first two covers:
The cover masthead uses brackets around the descriptor "The Magazine for Gender-Responsive Evaluation" as a visual metaphor for the closer analysis that the Evaluation Office provides. The cover subhead is always placed directly under the brackets.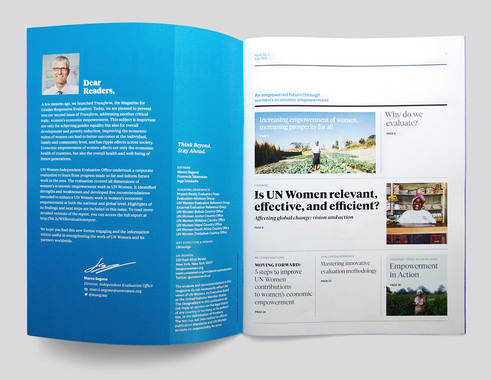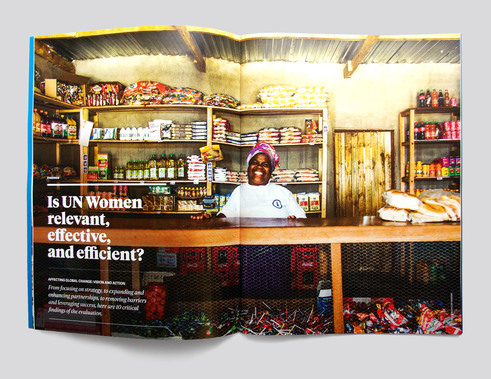 Feature stories always open with a full-spread image:
Secondary stories often open with a spread with text: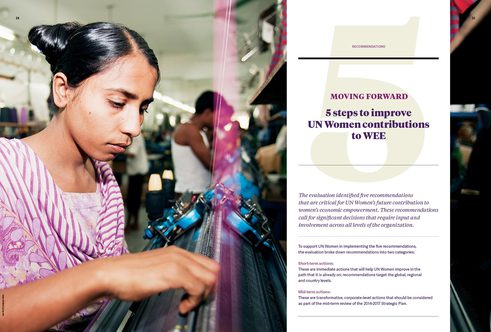 Content layouts include generous use of callouts, sidebars and infographics: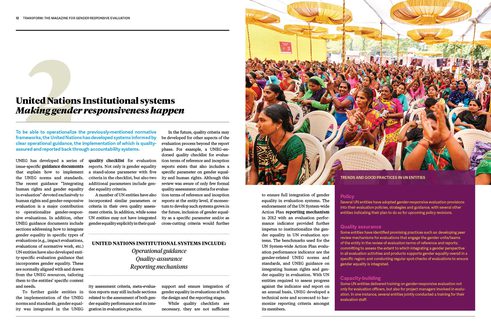 -------
See full issues:
(Click to read fullscreen)
Flip through Issue #1
Flip through Issue #2: