Welcome to the new and improved ultravirgo.com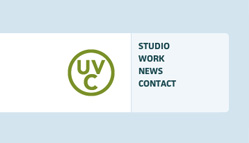 In honor of our 8th anniversary, we're thrilled to launch our new web site. Over the last year we've taken a good look at our mission, clarified our focus, and bolstered our resources, all while completing some great projects for ingenious clients. The driving force behind the design itself was the desire to showcase much bigger images of our work - taking advantage of the dramatically larger screens that have become the standard since our previous design was launched four years ago. With that in mind, we went full-screen with images that automatically scale to fill the entire browser window (without Flash!). So, please, take a look around at our work, learn a bit about our studio, and tell us what you think!
Oh, and for archiving purposes, our old chartreuse and wood paneling site is still
here
.