Spirit of ABNY Awards
Last night was the Spirit of ABNY Awards, an annual awards ceremony and fundraiser for The ABNY Foundation, honoring those that make New York City a better place to live. This year, the focus was on the tech industry, honoring the "visionaries who connect tech to the big apple", including Foursquare, ideeli, Dawn Barber from NYTech Meetup, Alan Patricof, Deputy Mayor Robert Steel, and of course Cornell & Technion for their forthcoming applied sciences university on Roosevelt Island. And with presenters including Mayor Bloomberg, NYC Chief Digital Officer Rachel Sterne, and City Council Speaker Christine Quinn, it was great to see firsthand the commitment that city government is putting behind the tech industry as the next big engine for growth in NYC.
We had the honor of designing the promotional materials for the awards, including the invitation and signage at the event. The challenge was to present a fresh approach that referenced the tech industry and included an apple - the award itself is a crystal apple, and every year the materials feature a different interpretation of an apple. Looking to avoid the typical clichés of making things look "techy", our solution was to use a bold photo of a USB cord plugged into a bright, crisp green apple - a clear metaphor for the Big Apple as a power source enabling the tech industry. The event was a great success by all accounts, with record breaking attendance and fundraising.
Click on each image for a larger version.
The event name was foil stamped with semi-transparent iridescent foil.
Front and back of the save-the-date postcard.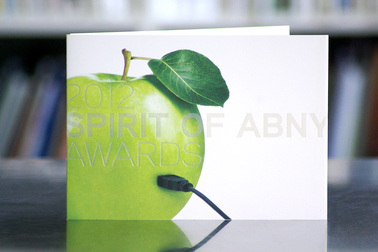 Invitation cover. The typeface is
Aaux Next Wide
, designed by Neil Summerour, an old design school classmate of mine.
Invite open.
Honorees.
Invitation elements.