Empowering a community to Empower Women
Our internal and external research found that the site was considered a useful resource, but it wasn't connecting beyond a close circle of supporters. Our analysis and recommendations produced a new name: Empower Women; a refined positioning focused on building a movement for economic empowerment; new messaging platform; and a cohesive visual system that features members of the community.
The site - EmpowerWomen.org - is the signature resource for Empower Women. It is an online portal that empowers individual women around the world to further their personal financial goals through moderated discussions, useful resources, personal connections and educational opportunities. Awaiting its own design refresh, it is quickly becoming a hub - already connecting thousands of women and men in more than 190 countries to partners in the private sector, civil society, academia, governments and international organizations - creating a global community of people working to further economic empowerment.
The old materials: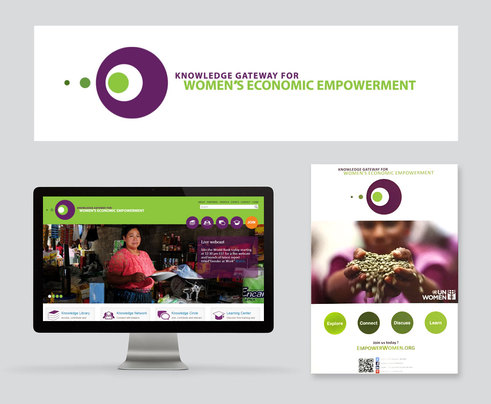 The logomark is designed to create a positive symbol for economic empowerment by blending an E/W monogram with symbols that evoke positivity, strength and working together. The m and w letters in the logotype utilize the same form to subtly emphasize equality between men and women.
Support for Empower Women is like a pebble tossed into a pond - its impact ripples outward beyond the individual to women around the globe. This concept was the inspiration for the concentric-circle motif used in icons and other graphics.
More than an awareness campaign, Empower Women is directly supporting women workers, entrepreneurs and leaders around the world, and we are proud to be able to use communications to help build a community working to improve the economic fortunes for women everywhere.